Lightning strike imagery is useful for identifying where convective activity (i.e., thunderstorms) is occurring, as well as providing some indication of its intensity. There are many other common uses for lightning strike imagery. For public safety officials, lightning strike imagery can be useful for damage assessment and helpful for resource deployment. Utilities companies need lightning data to predict where outages might occur. Lightning is a good indicator of severe weather, but it can also be deadly.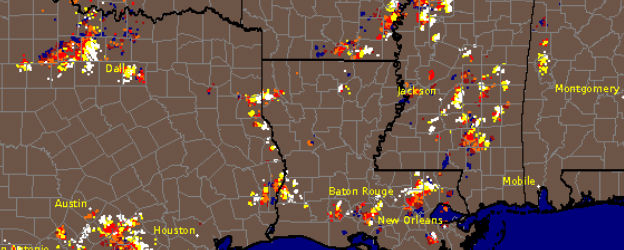 WeatherTAP.com's lightning images depict the location of recent lightning strikes, using data from the National Lightning Detection Network (NLDN). The images portray cloud-to-ground as well as some cloud-to-cloud strikes and are updated every 10 minutes. Each strike is depicted by a solid square symbol that changes color to reflect the age of the strike. View the strikes on national maps, regional maps or overlay in RadarLab Local.





All basic WeatherTAP accounts include the complete set of lightning images on the website as well as basic low-resolution lightning data updated every 10 minutes in RadarLab Local.